We think you'll love it too! We have years of experience selling land and homes in Placitas and the greater Albuquerque area--Albuquerque, Bernalillo, Rio Rancho, Algodones, Corrales.
If you are looking for that perfect piece of land or home, let us show you what is currently available. We take the time to listen to your needs and wants and show you the properties that meet those needs.
If you are ready to sell your home or piece of land, let us help you set a price and market the property to its best advantage.
Right on our website, we offer selected and full searches for that perfect property! Don't look to impersonal national websites--search here for current, accurate listing information!
A Sample of Our Listings!
Choose from the searches on the left for complete list of available properties.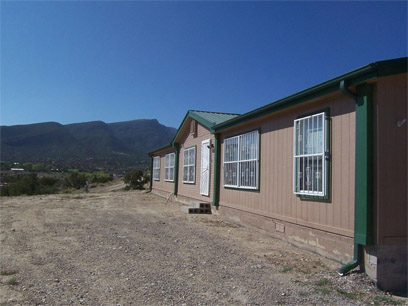 3 BEDROOM + OFFICE ON 1.6 ACRES! $250,000. Affordable 2170 sq ft manufactured home on permanent foundation in Placitas. Just 1/4 mile off paved road with big Sandia views! Great floor plan with spacious separate master suite plus 2 guest bedrooms and office/4th BR. 2.5 baths, living room, family room and dining room! Open floor plan! Master has sitting room, big walk-in closet, double sinks, garden tub and separate shower! Large, open kitchen that was recently remodeled with custom cabinets, beautiful tile floors, raised ceilings! Low maintenance metal roof! 2 storage sheds plus well house. 1 car carport plus plenty of room to add on and for outdoor living. Home is on a 4 lot well share. No HOA, just very minimal covenants. read more>
<><><><><>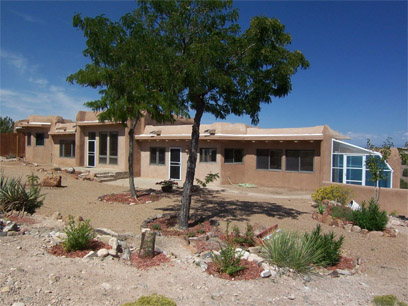 PENDING SALE! CONVENIENT PUEBLO STYLE CUSTOM 3 BEDROOM + OFFICE ON 4 ACRES! $589,000. Beautiful, spacious home with lots of exposed adobe & exposed beams and wood ceilings! Wonderful floor plan, built by custom builder Tom Ashe. Sandia & mesa views! 2408 sq ft + 3 car garage! Includes 3 bedrooms + office, 2.5 baths, great room, kitchen, dining room & den. Wood windows & lots of skylights give plenty of natural light! Views from every room! Wonderful front courtyard with portal & sweet views of the mesas! Huge rear yard is beautifully landscaped! On paved road. Refrigerated air & community water! Over 4 acres of land which goes 275 north & 600 feet east of the home! Plenty of room for a studio, workshop or barn! Septic already inspected. Less than 5 minute drive to I-25 & just 12 minutes to Albuquerque. MLS# 1001368 read more>
<><><><><>
PENDING SALE! SOUTHWESTERN STYLE ON 2 ACRES! $440,000. Ridge top custom 3 bedroom home with dramatic views of the mesas and Sandias! Lots of exposed adobe and beam and wood ceilings, 2 kiva fireplaces, brick floors, open floor plan, heated sunroom, skylights and wood windows. New roof is just 2 years new! 2 car finished garage. 2 acre lot which includes over 150 feet of ridge land to the south of the house... Solar panels (owned). Views from every window. Private covered porch off master bedroom and spacious rear patio! Kiva fireplaces in great room and master bedroom. 2 full baths, walk-in closets, clerestory windows and wonderful, open kitchen with island. Community water! New septic system! Great sunroom for passive solar heat and growing plants in winter. Less than 5 miles from I-25. read more>
<><><><><>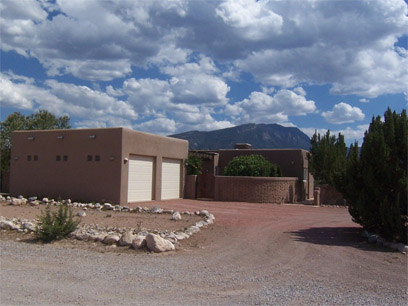 PENDING SALE! OUTSTANDING SANDIA VIEWS! Immaculate 2500 sq ft pueblo style custom! 3 bdrms + office with 3 full baths, great room & family room and 33 solar panels! Nearly level land with gentle slope to south which protects these fantastic views! Exposed beams & wood ceilings in MBR, Great Rm & Dining Rm! Wonderful southwest accents with 2 kiva fireplaces (in GR & MBR). 4 covered porches to enjoy all the views! Saltillo tile & wood floors (no carpet!) Lots of natural light! Master bath has extra deep jet tub & separate shower. 2 closets in master. Kitchen has beautiful cabinets & counters + huge pantry room! Great storage! Wood doors. 2nd master bdrm has separate access. Private courtyard between house & garage. Solar makes for very low electric bills! Views of city lights too. Close to public land! 39 Camino de la Questa del Aire, Placitas MLS# 995327 read more>
<><><><><><>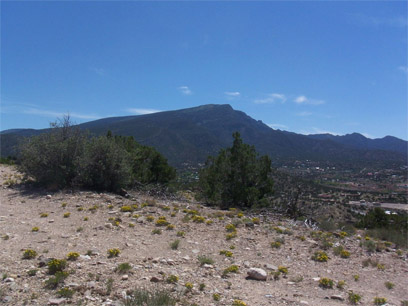 3 LOTS! OVER 10 ACRES! 360 DEGREE VIEWS! $195,000. Panoramic views from this 10+ acres that is already platted as 3 separate lots! Sellers want to sell all 3 lots together. The lots include water, electric, phone and cable! There is a mix of terrain including 2 beautiful ridge top sites and a lower building site. The 10 acres is located just 1/2 mile off paved (County) road. Covenants require 1800 sq ft minimum house size, no mobile homes, southwest styles, etc. The lots are 6 acres, 2.5 acres and 2 acres. Dramatic views of the Sandias, Cabezon, Mesas and Las Huertas Creek valley! Spacious lots with few close neighbors! The northerly 6 acre lot goes down almost to Las Huertas Creek; part of that lower land is in flood zone. but the building site is over 100 feet above the flood zone. 49 Camino de las Brisas, Placitas MLS# 1000182. read more>
<><><><><><>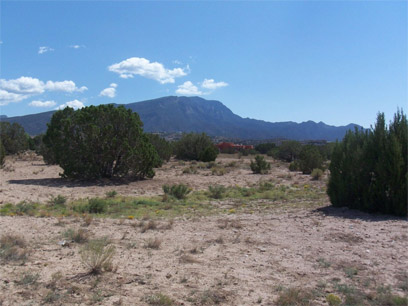 PENDING SALE. AFFORDABLE ACRE LOT! $50,000. Beautiful, level lot with huge views on paved road with water & underground electric, phone & cable! Great views of the Sandia mountains, as well as views of the Mesas, Cabezon, Jemez Mtns and Mt Taylor! Less than a quarter mile from 3100 acres of Public (BLM) Land & 560 acres of City of Albq Open Space! Reasonable Restrictions: 1500 SF Minimum, SW Styles, ie: Pueblo or Northern NM Style, 18 Foot Height Restriction. Household pets and horses are allowed. Bank Financing Available with about 25% down! Water tanks for the shared well (and fire protection) are at the NW corner of the lot, but there is still plenty of level land for building on this acre lot. Corner lot, so you can access the property from the north or east sides. Palomino Road, Placitas MLS#1000063. read more>
<><><><><><>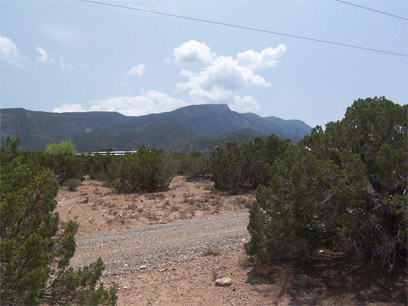 ASTOUNDING MESA VIEWS! $114,000. Level building site located only about 2,000 feet from thousands of acres of National Forest land! This lot has about the best mesa views that you can find! There are views of the Sandias too, as well as a little bit of views of city lights! Water and electricity are already there. This lot is only 400 feet off paved road in the Tunnel Springs part of Placitas. Reasonable restrictions with 20' maximum height restriction, 1650-3500 sq ft home allowed, Southwestern Style and Design, no mobile homes. Shared well is already in place. This is 2.7 acres with a decent size (nearly) level site, then the land slopes down to the west, protecting the amazing mesa views! Bank financing is available, but owners will also consider owner financing for a little while! Leah Lane, Placitas MLS# 997398 read more>
<><><><><>
PENDING SALE. 3 ACRES WITH COMMUNITY WATER! $88,000. Beautiful south facing lot on paved road with fantastic views of the north end of the Sandias as well as sunsets and a little bit of city lights! Water, electric and cable are there. This is a convenient lot, located just 5 miles from I-25 on paved County road! Sloping lot with reasonable restrictions: 1200 square foot minimum house size, 17 foot maximum building height, horses are allowed. This lot includes a mix of terrain with some steeper slope, some gentle slope, some nearly level land and a beautiful arroyo which is occasionally a seasonal stream. Bank financing is available, but owners will consider short term owner financing with a reasonable down! Yucca Lane, Placitas MLS#997397 read more>
<><><><><><>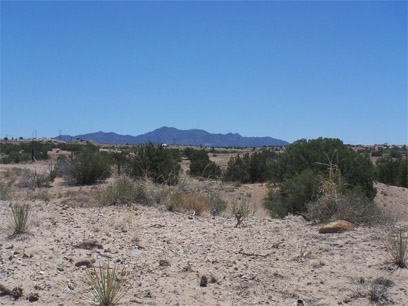 11 ACRES WITH WELL AND ELECTRIC $165,000. Secluded acreage with easy access to I-25 and less than a 30 minute drive to Albuquerque or Santa Fe. Gently rolling terrain that is already divided into two lots: 7 acres and 4 acres. Few restrictions, but no mobile homes or off-site built homes are allowed. Located close to Santo Domingo Pueblo, there are few nearby neighbors. 460 foot deep well drilled in 2018 and is estimated to yield 30 gallons per minute. Sweet views of the Sandias and surrounding mountains! Well, well house and electricity are located near the middle of the land off the south driveway. There is quite a bit of meadow and gently sloping land. Plenty of room for horses and other animals and multiple building sites! The land can be (relatively easily) divided into up to 5 lots! Camino de Dolores, Budaghers MLS# 992902 read more>
<><><><><><>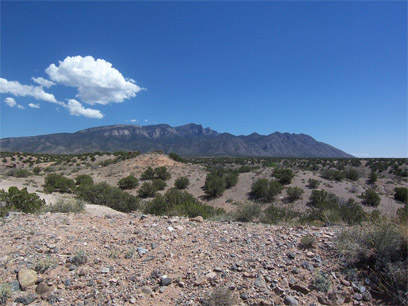 1.3 ACRES WITH COMMANDING VIEWS - NEXT TO PUEBLO LAND! $100,000. Beautiful view lot with truly panoramic views and few neighbors! Really big views of the Sandia Mtns, as well as Sunsets, City Lights, Jemez Mtns and the Mesas! This lot is at the end of the road, yet it is located just minutes from I-25. There are no covenants and no HOA, just some basic zoning! Water and electricity are only 150-200 feet away. Shared well on lot next door serves just 4 properties. The lot is fenced on the west and north sides. Zoning has 1008 sq ft minimum house size, 28 foot maximum height and requires (at least) a 2 car garage. Pitched metal or tile roofs allowed, as well as pueblo style. This is a rare lot that has no covenants and yet it is located in the west part of Placitas! Bank financing available! Forest Lane, Placitas MLS #991352 read more>
<><><><><><><>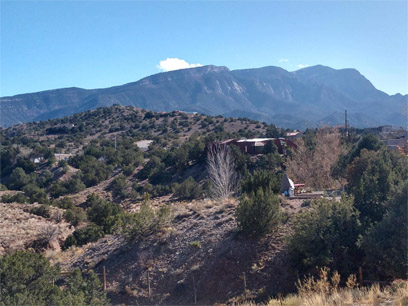 PRICE REDUCED! BIG SANDIA VIEW! Over 2 acres with water, electricity, phone, cable and natural gas. $99,000 Two generous building sites and privacy. Lot has gently sloping upper building site and existing road to large, lower flat building site--great for horses, studio, or casita. Impressive Sandia view from both upper and lower building sites. Minimum house size 1,200 sq. ft. with 17 ft. maximum height. Lots in the area are 2 acres for space and privacy. Quiet dead end road, just minutes to I-25. Bank financing available. 29 Chaparral Road, Placitas MLS#980757 read more>
<><><><><><>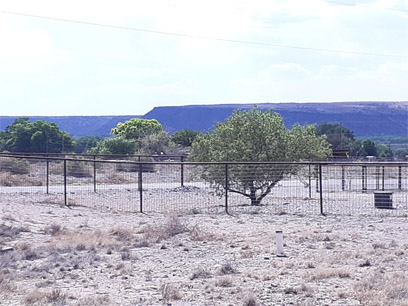 Wonderful mostly level view lot with water & power at an amazing price! Shorten your commute to Santa Fe with convenient I-25 access when you build your dream home here. Enjoy the gorgeous sunsets and the wild horses just over the fence that backs up to the San Felipe Pueblo land. Horses and other domestic animals allowed! Only restriction: no off-site built homes allowed. 37 Coronado Road, Algodones MLS# 993205 read more>
<><><><><><>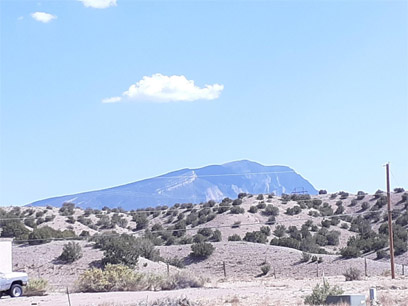 Wonderful level view lot with water & power at an amazing price! Shorten your commute to Santa Fe with convenient I-25 access when you build your dream home here. Enjoy the gorgeous sunsets and the nearby wild horses. Horses and other domestic animals allowed! Only restriction: no off-site built homes permitted. 33 Coronado Road, Algodones MLS# 993200 read more>
<><><><><><>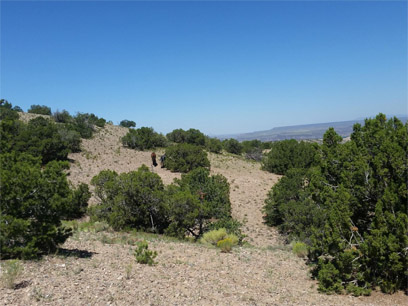 AFFORDABLE LOT - NEXT TO OVER 3,000 ACRES OF PUBLIC LAND! ONLY $19,000 for 1.9 acres. Land is situated just 1,000 feet off paved road! Beautiful, pristine, undeveloped land with scenic views of rolling hills and mesas. This is part of Placitas where you see the wild horses roam! 1.9 acre lot which borders BLM land to the west, so you have plenty of room to roam! Reasonable restrictions, typical of much of Placitas: 1800 sq ft minimum house size, single story, southwestern/New Mexico Pueblo, New Mexico territorial, Northern New Mexico architectural styles or earthsheltered designs, 25' set backs, household pets allowed... Wells in the area are about 500 feet deep. Electricity is about 1,000 feet away: buyers should consult PNM about electric availability and cost. 20 Camino Halcon, Placitas MLS# 993577 read more>
<><><><><><>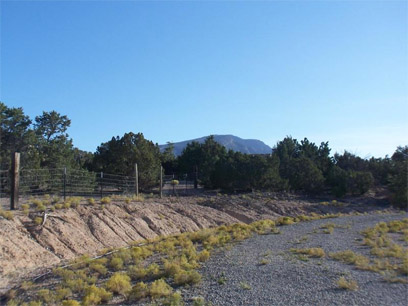 NEXT TO PUBLIC LAND! NO RESTRICTIONS! $50,000. Beautiful lot next to public land in Placitas! Level site where you can build just about anything you like! Sweet Sandia views to the south as well as views of Cabezon & the Jemez Mtns! Good area for wells; nearby wells are around 400 feet deep. Underground electric (with transformer is by the NW corner of the property. Paved (County maintained) road is only about 350' away. No covenants! No size or style restrictions; just minimal zoning! 36 foot maximum height, so you can build 2 story if you want to see even more of the views! Bank financing available. Land to the east is 3100 acres of public land, so you have half a mile of BIG BACK YARD! No restrictions, so you can have animals... chickens, goats, horses, etc. allowed! 341 Camino de las Huertas, Placitas MLS# 956516 read more >
<><><><><><>
FEATURED Properties shows you land and homes specifically listed by Placitas Realty.
Placitas HOMES Only shows all homes currently listed for sale in Placitas.
Placitas LAND Only shows all land currently listed for sale in Placitas.
Search ALL New Mexico Properties allows you to look for a property in any location within New Mexico.
Realty Watcher is a special feature that allows you to target your search by price, location, size and other options. It will send you e-mail notifications to let you know what's "new" on the market! You can also save favorites and share listings with others.
Contact our office at 505-867-8000 or contact our brokers:
Dave Harper at 505-263-2266 (voice/text)
placitasdave@gmail.com
Janice Fowler at 505-250-6946 (voice/text) placitasjanice@gmail.com
Jan Baker at 505-235-1927 (voice/text) placitashomesandland@gmail.com