We think you'll love it too! We have years of experience selling land and homes in Placitas and the greater Albuquerque area--Albuquerque, Bernalillo, Rio Rancho, Algodones, Corrales.
If you are looking for that perfect piece of land or home, let us show you what is currently available. We take the time to listen to your needs and wants and show you the properties that meet those needs.
If you are ready to sell your home or piece of land, let us help you set a price and market the property to its best advantage.
Right on our website, we offer selected and full searches for that perfect property! Don't look to impersonal national websites--search here for current, accurate listing information!
A Sample of Our Listings!
Choose from the searches on the left for complete list of available properties.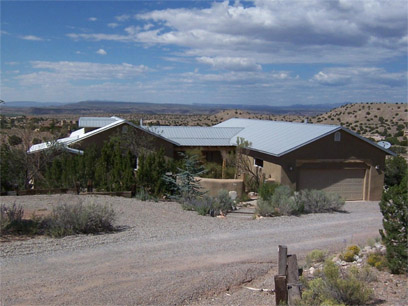 Fantastic Northern NM style custom home. 2 ft. thick walls, huges exposed beams and wood ceilings with dramatic views of Mesas and Cabezon. 3 bedrooms, 2.5 bath, 2 car garage. 17 Cienega Canyon Rd. MLS#928878 read more.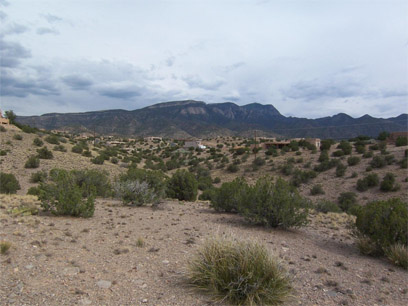 2 ACRES FOR JUST $59,000. Developed lot with dramatic Sandia views as well as excellent views of city lights and sunsets! Lot has water, electric, phone, cable and natural gas all in the road at the lot. South-facing 2 acre lot, ideal for passive solar designed home and taking advantage of natural light! Good restrictions: 1800 sq ft minimum house size, 17' height restriction, southwest style, horses allowed. Homesteads has a 2 acre minimum lot size, so other homes are not too close. Motivated seller! HOA is less than $5 per month! Calle del Sol, Placitas. MLS# 922010 read more.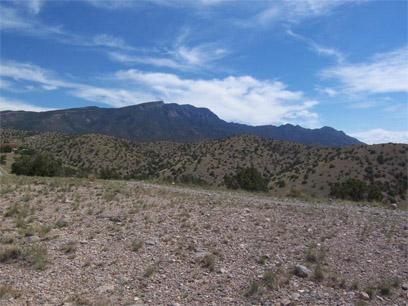 19 LOTS IN PLACITAS! OVER 48 ACRES FOR $499,000. Phenomenal views in all directions! Underground electric, phone, and cable lines are only about 300 ft away. Huge views of Sandia Mtns., Mesas, Cabezon, Mt. Taylor, Rio Grande Valley. 150 Overlook Dr. MLS#926615 read more.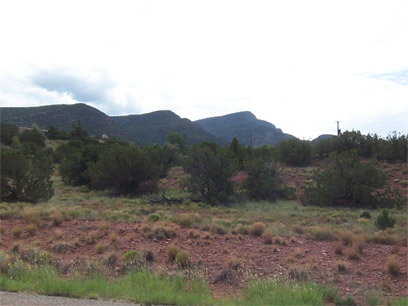 NO RESTRICTIONS! 3.5 acres for $69,000 located on paved road! Sandia Mountain as well as views of the beautiful hills and valleys all around. Great lot for someone with horses! Camino del Carrisito MLS#927358 read more.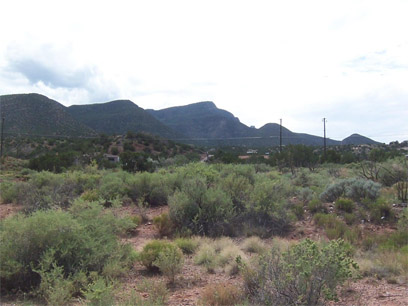 NO RESTRICTIONS! 1.5 ACRES FOR $39,000. Paved road. Sandia Mtn. views and surrounding hills. Owner will finance for a short time with a reasonable down payment. Less than 6 miles from I-25. Camino del Rincon Colorado MLS#927357 read more.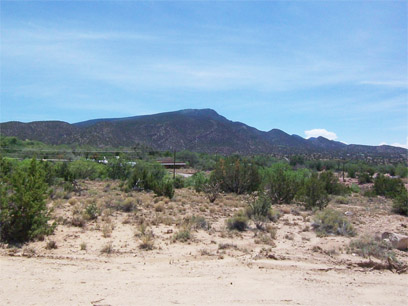 OVER 3 ACRES--PLATTED AS 3 LOTS! $90,000. Owner financing. Big Sandia views as well as views of the mesas, Jemez Mtns., and Cabezon! Gently sloping land. 11 Camino de las Huertas. MLS#924998 read more.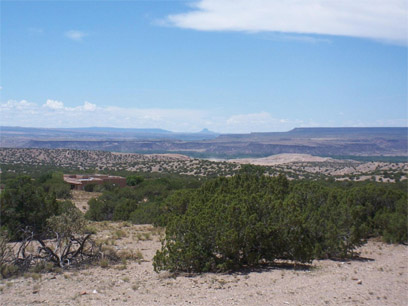 8 ACRES IN PLACITAS - ALREADY PLATTED AS 4 LOTS! Asking $69,000. A mix of level, gentle slope & steeper land with a couple of arroyos. Very reasonable covenants. Bank financing available. Palomar Rd. - 4 Lots. MLS#924078 read more.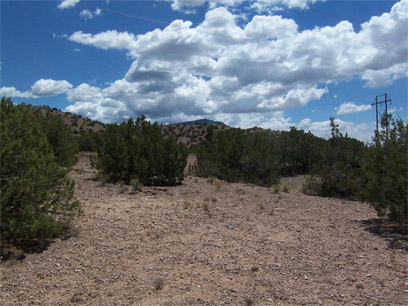 AFFORDABLE 1.6 ACRES IN PLACITAS FOR JUST $34,000. Wonderful building site set back off the road. Views of the Mesas, Cabezon, Jemez Mtns. & Mt. Taylor! Sandia views too! Power is in the road at the lot. Good wells in area. Less that 1/4 mile from thousands of acres of public land. Palomar Rd. Lot 16. MLS#924088 read more.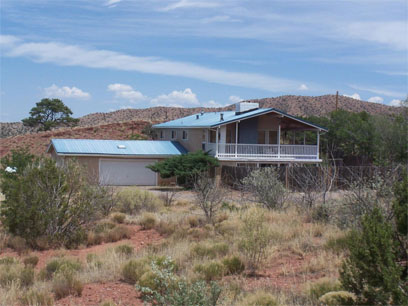 2500 SQ FT ARTIST'S HOME IN PLACITAS! Convenient 4 bedrooms, 3 bath, living room/dining room plus 2 more living rooms! Pitched roof home with wood, brick, and tile floors. Plenty of character and color! Right in the foothills with big Sandia views. Wrap-around porch. Room for horses. 5 Al Pie de la Loma, Placitas MLS# 921544 read more.
Almost no restrictions! Bank owned, 6.99 acres for $50,000. Adjacent to the I-25 south frontage road at Budaghers. Possible commercial use. Lot could be divided. Horses and other animals welcome. East Frontage Rd., Budaghers MLS# 921538 read more.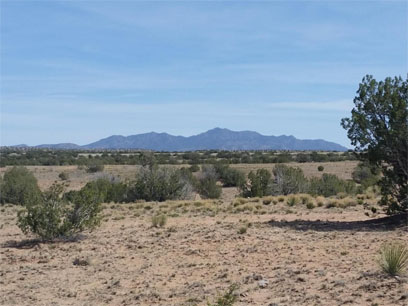 AFFORDABLE 3 ACRE LOT just off I-25 with almost no restrictions! Bank owned, 3 acres for $25,000. Possible commercial use. Land works for horses and other animals. Cedar Vista Ct., Budaghers. MLS# 921539 read more.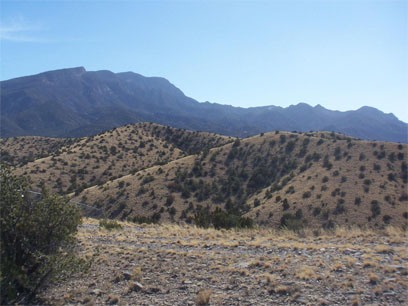 One of the HIGHEST view lots available in Placitas! Two great building sites on this 6 acres in Ranchos de Placitas. Community water and underground utilities. Bank financing possible with 20% down. Camino Alto, Placitas MLS#910417 Read more.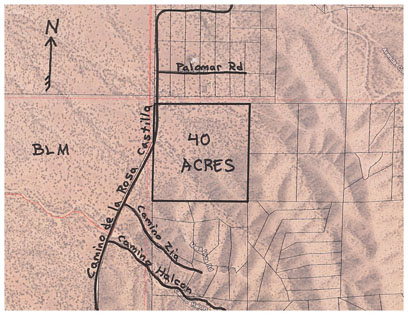 40 Acres in Placitas for $100,000! Large parcel with a lot of nearly level and very gently sloping land. Located on paved County maintained road. Sweet views of the north end of the Sandias, mesas, Cabezon, Jemez, sunsets!! Property is adjacent to 3,000 acres of public land. Camino de la Rosa Castilla, Placitas MLS#914519 Read more.
FEATURED Properties shows you land and homes specifically listed by Placitas Realty.
Placitas HOMES Only shows all homes currently listed for sale in Placitas.
Placitas LAND Only shows all land currently listed for sale in Placitas.
Search ALL New Mexico Properties allows you to look for a property in any location within New Mexico.
Realty Watcher is a special feature that allows you to target your search by price, location, size and other options. It will send you e-mail notifications to let you know what's "new" on the market! You can also save favorites and share listings with others.
Contact our office at 505-867-8000 or contact our brokers:
Dave Harper at 505-263-2266 placitasdave@gmail.com
Janice Fowler at 505-250-6946 (voice/text) placitasjanice@gmail.com Check out my blog!